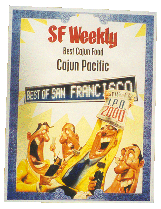 As a (Cajun)native of Louisiana, I have been looking around for an authentic Cajun/Creole restaurant that didn't think that all you had to do was add red pepper to a dish to call it Cajun. Well, "cher", this was it.
The crawfish beignets with horseradish sauce was out of this world and the pecan pie was to die for. The eggplant creole was, as we say in Louisiana, so good that it made you want to slap your mama. It's a small place with loads of charm, Cajun & Zydeco music in the background, and authentic enough to make you homesick for New Orleans even if you've never been there.


Considering the distance between the bay and the bayous, this is a solid kitchen. Coupled with very reasonable prices and generous portions...
Cajun Pacific is the little kitchen that could. It's a dinky little place that you've never heard of located in the Outer Sunset near the ocean, a stretch with more homes than hipsters. And it doesn't come with the high definition lines of metal and glass or plush textures and golden colors characteristic of the grand and the trendy in today's SF dining scene. But somehow it's not a surprise that most people leave Cajun Pacific with a warm sensation in their belly and post-prandial mists of stupor swirling in their sights. This kitchen might be a needle in the Outer Sunset's haystack, but it's sharp.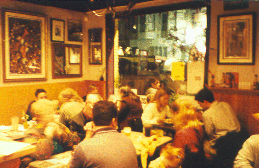 There are no smoke and mirrors to the food here, only smoky flavors from cayenne and other deep spices that justify the Cajun in the Pacific. Witness that in their corn bread, served as a welcome departure from usual bread and butter. Warm and peppered with hot red flecks, they aren't searing, but the heat builds up with each bite.
Cajun Pacific's food is hot, and the décor is just as zesty. The interiors are loaded with atmospheric baubles, from New Orleans-themed posters to funky idols and dolls to Mardi Gras beads spilling color into the dusky room. This place holds only a few tables and a short bar in front of the open kitchen. Smells and sounds of cookery emanate from the kitchen throughout dinner, as the small space tends to compress sensations while heightening the senses. There is a very pleasant mix of spicy energy and laid-back comfort.
An equally pleasant mix is their lovely roux-brown gumbo, fragrant, well spiced and heartfelt, with piquant chunks of personality in the form of Andoulie sausage and shrimp. You can almost feel the bits of sausage biting back. Vegetarians will be disappointed: that lively character translates poorly to the vegetarian gumbo, which was one-dimensional and overly sweet.
Po-Boys, the Southern incarnation of the sandwich, are fairly prominent on the menu at Cajun Pacific. The version with fried catfish is substantial and delicious, coming with all the frills: a light tangy mayonaisse-based sauce, shredded lettuce and tomato slices and moist tender fish, all sandwiched between a fluffy and light roll.
The star entrée here is probably the Crawfish Monica pasta with succulent curls of crawfish swimming in an amazing sauce. Here, the kitchen layers creamy richness on intricate crawfish flavor and magic sparks of spiciness. The resulting sauce might have a fair complexion, but it is as supernatural as a voodoo queen; complex with fine flavor details, it binds pasta and crawfish together luxuriously.
Often a heavily rendered dish, the jambalaya here deserves special mention. Cajun Pacific's version is surprisingly light. Among the fluffy clouds of flavored rice are bites of the ingredients du jour, which might include Andoulie sausage chunks, pieces of crawfish, shrimp, tasso or catfish, along with bits of vegetables, all adding their taste and texture to the savory mix that is given that extra kick by a generous sprinkling of red spices and chopped green onion.
There are restaurants in San Francisco that bristle with energy and creative dynamism. And there are those picture perfect in their precision. But once in a while, one encounters a neighborhood place like Cajun Pacific that comes along and breathes honest soulful cooking. And that puts everything into perspective. Isn't that what chow is all about?
-Lemster